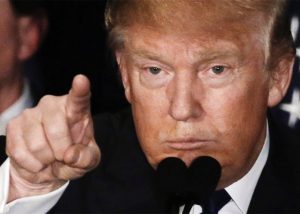 Late Monday afternoon (4/24), 60 or so conservative journalists and editors gathered in the Roosevelt Room of the White House for their own private press conference with President Trump.  I was not there as I was, and still am, in Eastern Europe.
Another fellow who was not there was a writer for The Hill, Jonathan Easley.  He interviewed a number of the attendees, many of whom whined and complained to Easley like spoiled brats.  So he reported (4/25):  Conservative Media Figures Disappointed with Trump Meeting.
One fellow who was there and not one of the complainers is Scott Johnson of Powerline.  Not only is Scott a solid clear-thinking liberty advocate, he's also a true gentleman.  His account of the meeting (4/25):  At the White House with Trump.
Scott's is well worth reading.  His conclusion at the meeting's end:  Trump gave "an impressive performance" in both substance and demeanor.  He answered questions calmly and graciously, with "fluency and facility."
What was not impressive was the lack of good questions from the President's audience.  Here was a golden opportunity, and with exceptions like Roger Kimball's on Iran and others, the questioners blew it.  Fully half, reported Scott, of the 30 minutes given them, was devoted to in-the-weeds questions on trade.
So here are a half-dozen Questions Never Asked but should have been.  Like you, I sure would like to know the answers.  Ps:  There's a Bonus Question.